Regents Hall
---
Regents Hall is a six-story residence hall opening fall 2021, and is located in the First Year Village. It houses 375 first year students.
All spaces are designed to enable deep faculty and peer engagement around important ideas that connect directly to student success and learning.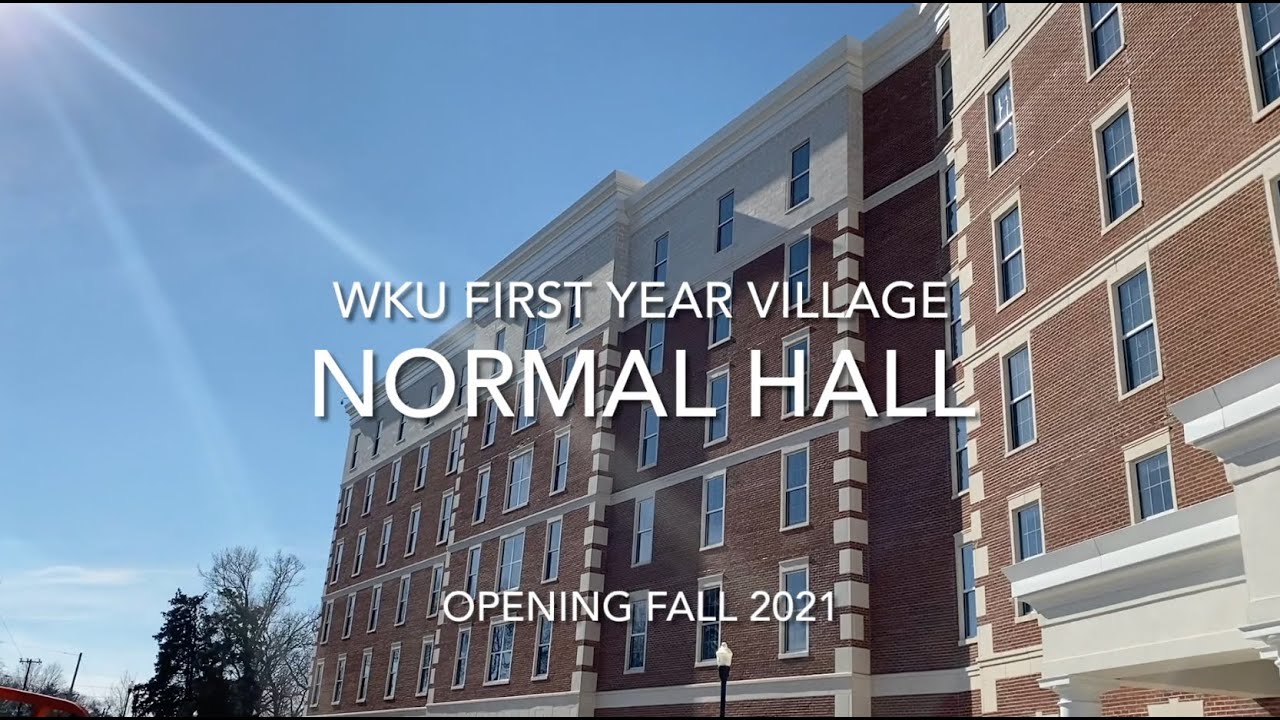 Shown: Regents Hall, March 2021; Regents Hall will be similiar to Normal Hall.
Pod-Style
Residential units include 2-bed suites. Each pod is comprised of approximately 25 students who share a large community living space, two community restrooms, and two private restrooms.
Open to First Year Students
Learn more about Regents Hall and the First Year Village in the WKU Spirit Magazine from the Alumni Association.
More Images of Regents Hall Available Soon!
Regents Hall is similar to Normal Hall and most spaces are identical. Normal Hall is shown below while Regents Hall is under construction:
Living Learning Programs
Most students living in the First Year Village will participate in a Living Learning Program (LLP), where students with similar academic or social interests live together and participate in activities tailored to their specific majors or interests.
Find Your Living Learning Program
Ground Floor & Public Spaces
The main floor hosts a public classroom space where many LLP students will attend class and programs together, faculty offices for residence hall office hours, tv/gaming areas, study rooms with individual study pods, and a large community space. A café' featuring coffee, sandwiches, and other grab-and-go type items is also scheduled to open fall 2021 on the main floor.
Lobby
The lobby provides public and residential access to the building. The residential entrance is locked and has a 24-hour security and information desk. Guests can enter the public classroom and music practice rooms through the main entrance lobby.
Residential Commons
The Residential Commons are located on the ground floor of the building. The commons are separated from the lobby so that access to the commons may be restricted to building residents or opened to non-residents during certain hours. The Residential Commons includes the following spaces: reception desk, package storage room, vertical circulation, staff offices, laundry, study rooms, and open community areas.
Outdoor Space
A large green space is planned behind Regents Hall that provides opportunities for student connection and special programming.
---
Wifi
Ethernet Access
Air Conditioning
Elevators
Vending Machines
Ice Machine
Community & Private Bathroom Options
Closet space with electrical outlets
Laundry Room
Free Laundry
Public Classroom Space
Dining Location
Faculty office space for in-hall office hours
---

Dimensions are approximate, as rooms may vary slightly.
Room Size
145"W x 200"L (includes closet space)
Mattress
36"W x 84"L x 3"H
---
---
1717 Normal Street, Room ###
Bowling Green, KY 42101
---
Coming Soon!
---
Fire Evacuation Plans
Available Soon!
Safe Space
Any stairwell, lowest possible floor
---
Some of the links on this page may require additional software to view.