Summer Move Out
How to check out of your hall for the summer
---
All residence halls will close on Friday, May 6, 2022 at 6 PM.
Students living on campus during the summer will move from their current assignment to the summer hall.
---
Step 1: Before Finals Week
Before finals week, begin planning your move-out. If you travel home at any time, you may want to begin taking some of your personal belongings with you. Review the steps below and discuss with your roommate, if applicable, to decide what each of you will do to prepare the room for move-out.
Step 2: Prepare Your Room
Unplug and defrost your fridge.
Make sure you have plenty of time to do so, and use a towel to collect any excess water that drains.

Remove all trash from your room.
Take large items to designated the designated dumpster near your hall. Do not leave trash in the building. Clean out the trash can.

Remove ALL personal belongings from your room.

Unbunk your beds and return the furniture to the original arrangement of Left and Right sides. Return the bunking pins to the desk, if applicable.

Sweep the room. Mop the floor, if necessary.
Brooms and mops are available for checkout at the front desk. An excessively dirty room may result in a cleaning charge.

Close and lock windows.

Depending on what thermostat is in your room, set the thermostat to 72 degrees and the fan to auto - or - halfway in the blue section, fan on medium.

Turn off the lights.

Lock your door.
Watch: Instructional Video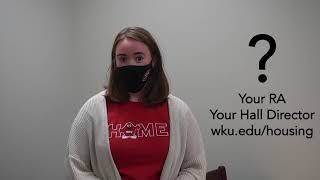 Return the Furniture to the Original Arrangement:
Step 3: Complete an Express Checkout at your front desk
Officially check out by completing an express checkout envelope with your full name, WKU ID# and side of the room/room#.

Read the entire envelope and sign the envelope.

Seal your room key inside the envelope. You must turn in your key at the time of check out to avoid an additional charge.

Give the envelope to the front desk worker.
Failing to complete these steps is considered an unofficial checkout, which will result in an unofficial checkout charge of $150 and/or loss of the $150 housing deposit.
---
If you are moving directly into your summer residence hall room from your current assignment, you must be pre-registered in the Housing & Residence Life office prior to April 30.
For more information, please see your Resident Assistant or your Hall Director.
---
Some of the links on this page may require additional software to view.