Smoking and Tobacco
---
Cigarette smoking is the leading preventable cause of death in the United States
Cigarette smoking causes more than 480,000 deaths each year in the United States. This is nearly one in five deaths.
Smoking causes more deaths each year than the following causes combined:

Human immunodeficiency virus (HIV)
Illegal drug use
Alcohol use
Motor vehicle injuries
Firearm-related incidents
More than 10 times as many U.S. citizens have died prematurely from cigarette smoking than have died in all the wars fought by the United States.
Smoking causes about 90% (or 9 out of 10) of all lung cancer deaths.
More women die from lung cancer each year than from breast cancer.
Smoking causes about 80% (or 8 out of 10) of all deaths from chronic obstructive pulmonary disease (COPD).
Cigarette smoking increases risk for death from all causes in men and women.
The risk of dying from cigarette smoking has increased over the last 50 years in the U.S.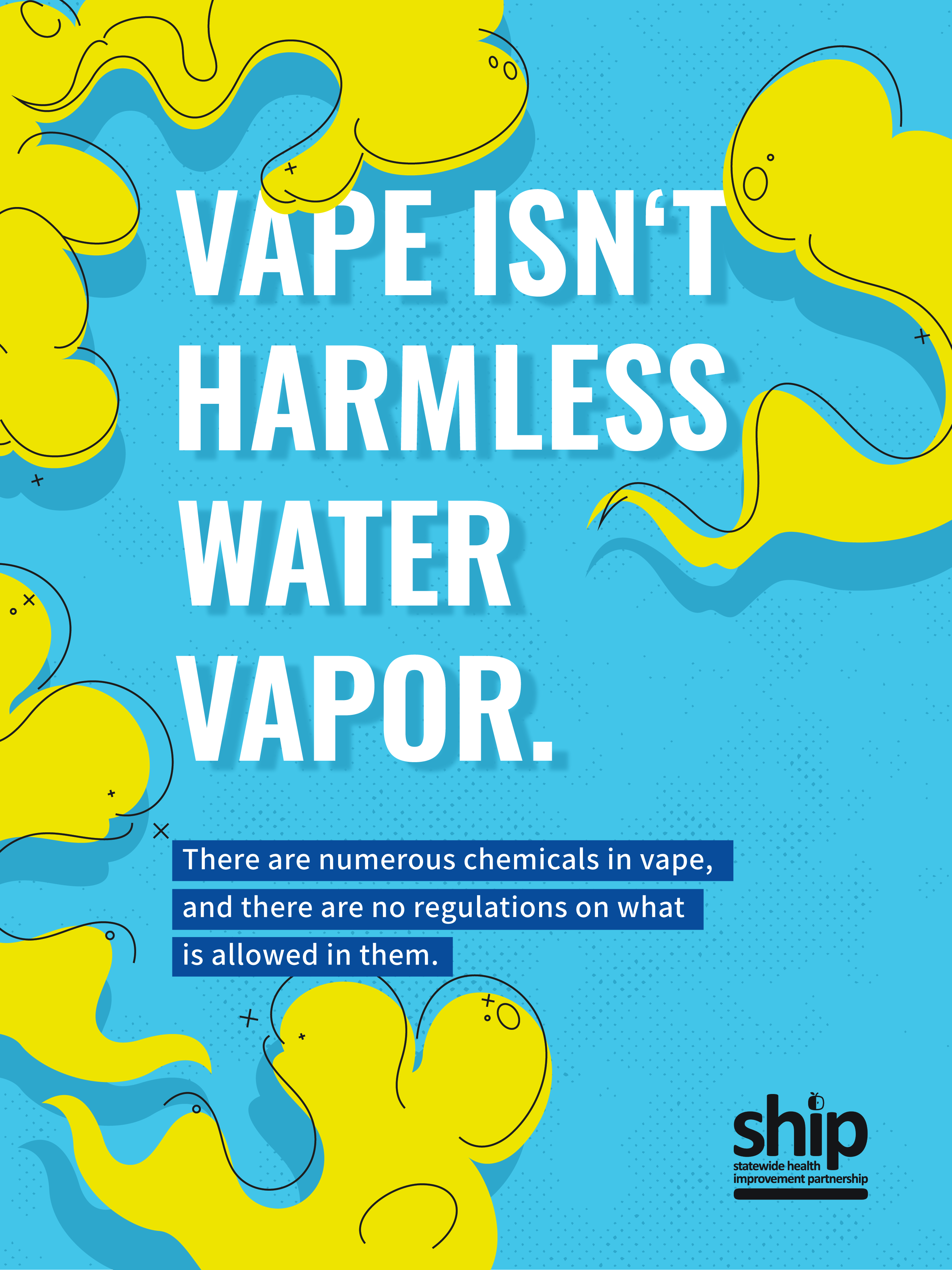 Electronic Cigarettes and Overall Health: Get the Facts
E-cigarettes have the potential to benefit adult smokers who are not pregnant if used as a complete substitute for regular cigarettes and other smoked tobacco products.
E-cigarettes are not safe for youth, young adults, pregnant women, as well as adults who do not currently use tobacco products.
While e-cigarettes have the potential to benefit some people and harm others, scientists still have a lot to learn about whether e-cigarettes are effective in helping adults quit smoking.
If you've never smoked or used other tobacco products or e-cigarettes, don't start.
Learn more here.
The e-cigarette aerosol that users breathe from the device and exhale can contain harmful and potentially harmful substances, including:
Nicotine
Ultrafine particles that can be inhaled deep into the lungs
Flavoring such as diacetyl, a chemical linked to a serious lung disease
Volatile organic compounds
Cancer-causing chemicals
Heavy metals such as nickel, tin, and lead
It is difficult for consumers to know what e-cigarette products contain. For example, some e-cigarettes marketed as containing zero percent nicotine have been found to contain nicotine.
E-cigarettes are still fairly new, and scientists are still learning about their long-term health effects. Here is what we know:
Most e-cigarettes contain nicotine, which has known health effects.
Nicotine is highly addictive.
Nicotine is toxic to developing fetuses.
Nicotine can harm adolescent and young adult brain development, which continues into the early to mid-20s.
Nicotine is a health danger for pregnant women and their developing babies.
Besides nicotine, e-cigarette aerosol can contain substances that harm the body.
This includes cancer-causing chemicals and tiny particles that reachdeep into lungs. However, e-cigarette aerosol generally contains fewer harmful chemicals than smoke from burned tobacco products.
E-cigarettes can cause unintended injuries.
Defective e-cigarette batteries have caused fires and explosions, some of which have resulted in serious injuries. Most explosions happened when the e-cigarette batteries were being charged.

The Food and Drug Administration (FDA) collects data to help address this issue. You can report an e-cigarette explosion, or any other unexpected health or safety issue with an e-cigarette,

here

external icon

.

In addition, acute nicotine exposure can be toxic. Children and adults have been poisoned by swallowing, breathing, or absorbing e-cigarette liquid through their skin or eyes.
oke and want to learn more about quitting, click her
If you use tobacco products and want to learn more about quitting, click here.
References:
https://www.cdc.gov/tobacco/about/osh/index.htm
https://www.cdc.gov/tobacco/quit_smoking/index.htm?s_cid=osh-stu-home-nav-002
---
Some of the links on this page may require additional software to view.