Wellness Resources:
Event Information
Muscle of the Month: Cycle to South Padre Island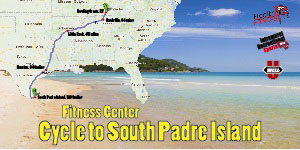 Date:
Friday, February 1st, 2013 - Friday, February 1st, 2013
Location:
Preston Fitness Center
Event URL:
http://www.wku.edu/healthfitnesslab/
You must attend this event 2 times before completing this event.
Description:
Cycle to South Padre Island
February 1st- 28th, during Fitness Center Hours of Operation


Goal: Collectively pedal all 1209 miles to South Padre Island using a stationary bike or arm ergometer in the Fitness Center

RULES
1. Utilize the bikes that are available in the Fitness Center
2. Notify the Fitness Center Staff before you begin your cycle.
3. Have the staff record your information on the M.O.M. board at the completion of each cycling workout.
4. Only full miles count- e.g. if you finish 2.5 miles, only 2 miles will be recorded.
5. Participate as many times as you would like during the month!
The Male and Female who accumulates the most miles throughout the month will win $15 gift cards. Two raffles will be drawn for $10 gift cards!!

To receive WellU credit, you must participate in the activity TWO times between the dates of 2/1 - 2/28.