Wellness Resources:
Event Information
Trick or Trail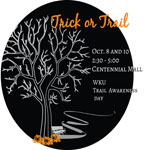 Date:
Tuesday, October 8th, 2013 - Tuesday, October 8th, 2013
Location:
Centenial Mall
You must attend this event 1 time before completing this event.
Description:
Trick or Trail
Centenial Mall
October 8 & 10
2:30-5pm
Come learn about the walking trails in Warren Co. while playing games and gaining candy at each booth. Learn about how being active outdoors can improve your overall health as well as improving the environment we live in. There will be cardswip stations where you receive credit for attending. We are giving away two tickets to Lost river Cave and a gift card to Griffs deli. Come out and go green!
Dont forget your WKU ID to swipe