Calendar
---
Event Information
ORAC: Mountain Bike Mondays- Week 7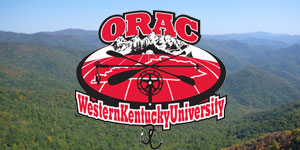 Date:
Monday, October 14th, 2013 - Monday, October 14th, 2013
Location:
Preston Center
Event URL:
http://www.wku.edu/orac/
You must attend this event 1 time before completing this event.
Description:
ORAC: Mountain Bike Mondays
Location: Weldon Pete Park Hollow
Dates: Mondays in September and October
Cost: $5 (for bike rentals)
Check out one of our 29' FUJI mountain bikes and join us as we head downtown to ride Bowling Green's new mountain bike trail in Weldon Pete Park. Bring your own bike or rent one of ours for $5. Ride time will be between 2-3 hours depending on daylight and time available. Snacks, dinner or local Bowling Green attractions may also be included in this event. This information will be shared at the start of the event.
Make sure you bring your WKU ID to receive credit and/or sign in!
---
Some of the links on this page may require additional software to view.