Wellness Resources:
Event Information
ORAC: Mtn. biking/ Hiking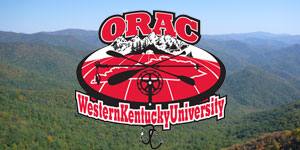 Date:
Saturday, October 26th, 2013 - Sunday, October 27th, 2013
Location:
Brown County State Park, IN
Event URL:
http://www.wku.edu/orac/
You must attend this event 1 time before completing this event.
Description:
ORAC: Mtn. Biking/ Hiking
Location: Brown County State Park, Indiana
Date: October 26th-27th
Pre-Trip Meeting: October 17th @ 8pm
Cost: $25 University, $35 Guest
Come along as we head to the rolling hills of Indiana. Brown County State Park is one of the top places in the United States to view fall foliage. Join us as we hike and mountain bike on some 20 plus miles of trail the park has to offer. Hesitation Point is just one of several vistas to see on this adventure. All equipment is provided and no previous experience is required on this two-day trip.
Make sure you bring your WKU ID to receive credit and/or sign in!