Wellness Resources:
Event Information
ORAC: Canoeing/Mtn. Biking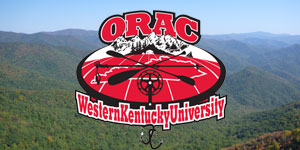 Date:
Saturday, October 19th, 2013 - Sunday, October 20th, 2013
Location:
Harpeth River Mont Bell State Park, TN
Event URL:
http://www.wku.edu/orac/
You must attend this event 1 time before completing this event.
Description:
ORAC: Canoeing/ Mtn. Biking
Location: Harpeth River Mont Bell State Park, Tennessee
Date: October 19th-20th
Pre-Trip Meeting: October 17th @ 7pm
Cost: $25 University, $35 Guest
Enjoy the weekend canoeing this beautiful class II paddling area located in central Tennessee. The Harpeth River State Park offers a unique paddling experience that allows you to paddle 5 miles and return back to where you started in less than a quarter mile. Join ORAC on this overnight canoeing trip to The Narrows of the Harpeth, site of one of the oldest man-made tunnels in the United States. Saturday afternoon we will camp at the Mont Bell State Park where we can hike and mountain bike on some great trails. All equipment provided and no previous experience required.
Make sure you bring your WKU ID to receive credit and/or sign in!