Wellness Resources:
Event Information
Clean Day for Greenways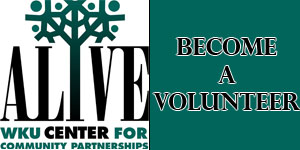 Date:
Monday, April 22nd, 2013 - Monday, April 22nd, 2013
Location:
DUC lobby
Event URL:
http://http://www.wku.edu/volunteerweek/
You must attend this event 1 time before completing this event.
Description:
Time: 2pm-4pm
Meeting in the DUC lobby at 1:30pm
National Volunteer Week at WKU
Across our great nation, many campuses and communities celebrate National Volunteer Week in April, and Western Kentucky University's ALIVE Center for Community Partnerships and WKU's Leadership & Volunteerism office collaborates each year to encourage campus and community members to volunteer and celebrate volunteers. This year, we will celebrate National Volunteer Week April 22-26, 2013, one week after the national recognition week. We have activities planned for different days of the week, and we would appreciate your support in making the week a success.
Sign in sheet will be available for WellU Credit