Wellness Resources:
Event Information
Positive Psychology Workshop 2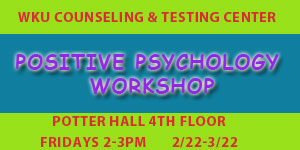 Date:
Friday, March 1st, 2013 - Friday, March 1st, 2013
Location:
4th Floor Potter Hall- Conference Room
Event URL:
http://www.wku.edu/heretohelp/
You must attend this event 1 time before completing this event.
Description:
Fridays 2-3pm
2/22/13 - 3/22/13
Get ready to try some activities that boost happiness, well-being and positivity!! This is a 5 week series, but you can attend for any amount of sessions. Workshops are FREE and open to all undergraduate and graduate students!
For more information call (270) 745-3159
This is a swipeable event!