Wellness Resources:
Event Information
Cultural Enhancement Series: Opus Artists Ailey II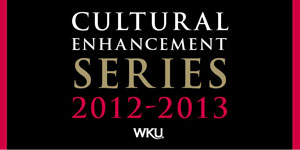 Date:
Monday, March 4th, 2013 - Monday, March 4th, 2013
Location:
Van Meter Hall Auditorium
Event URL:
http://www.wku.edu/culturalenhancement/
You must attend this event 1 time before completing this event.
Description:
Ailey II
Time: 7:30pm
iley II is an exceptional company that merges the spirit and energy of the country's best young dance talent with the passion and creative vision of today's most outstanding emerging choreographers. Artistic Director Designate Troy Powell continues the bold legacy of Alvin Ailey. (Seating vouchers will be issued for this event.)
All events begin at 7:30 PM (CST) in Van Meter Hall, and are open and free to faculty, students, staff and the community. Seating is on a first-come, first-seated basis. For more information, call 270-745-3259 or email cultural.enhancement@wku.edu.
*Reserve your free seating voucher for Ailey II at the NEW Box Office website http://wku.showare.com/ or by calling the Box Office at 270-745-3121.
This is a swipeable event!