Wellness Resources:
Event Information
ALIVE Center: Steps to a $100 Solution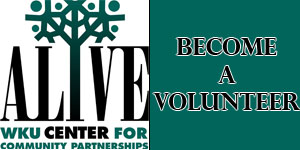 Date:
Monday, February 11th, 2013 - Monday, February 11th, 2013
Location:
Garrett Conference Center 115
Event URL:
http://www.wku.edu/alive/the100dollarsolution/
You must attend this event 1 time before completing this event.
Description:
Time: 2-4:30pm
Students can come anytime between the hours of 2pm-4pm to learn the steps to creating a project using The $100 Solution. Students should allot 30 minutes to participate.
For more information contact: alivebg@wku.edu