Wellness Resources:
Event Information
College Reading Series Book Club and Workshop Series: Text Coding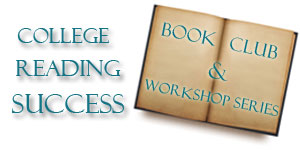 Date:
Monday, April 1st, 2013 - Monday, April 1st, 2013
Location:
Tate Page Hall 401
Event URL:
http://www.wku.edu/getready/
You must attend this event 1 time before completing this event.
Description:
Text Coding
Time: 3-4pm
Do you find your eyes are just looking at the words on the page? Learn how to interact with text so you will remember what you read.
Books will be provided
A ticket will be issued at each session for the grand prize drawing of an iPad Mini!!
PLEASE EMAIL Kristy Cartwright or Jeremy Logsdon to reserve a spot or ask questions!