Wellness Resources:
Event Information
Healthy Days: On the Boardwalk to Health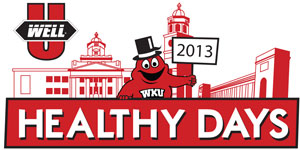 Date:
Tuesday, February 26th, 2013 - Tuesday, February 26th, 2013
Location:
Preston Center
Event URL:
http://www3.wku.edu/awellu/
You must attend this event 1 time before completing this event.
Description:
Time: 2-5pm

Join WellU for the 12th Annual WKU Student Health Fair. There will be over $600 in Door Prizes, FREE T-shirts, healthy food, health information and activities, healthy spring break kits, a photobooth and much more!!
Door Prizes
(To be eligible, you must complete 3 activities and visit 15 tables)
Fuji Bike (Absolute 4.0)

beats bydr.dre In-Ear Headphones
$50 Gift Card to the WKU Store

(2) $200 Scholarships
Donate $1 to Hurricane Sandy Relief Fund for another "CHANCE" to win a Door Prize(Donation table will be at the Health Fair)
Thank You to our SPONSORS!!
Funded by the J. Clifford Todd Professor in Longevity & Healthful Living Fund
Click Here to view pictures of Healthy Days 2012