Wellness Resources:
Event Information
Passport to Wellness: YOLO you might end up SOLO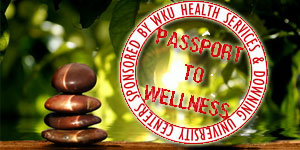 Date:
Wednesday, February 13th, 2013 - Wednesday, February 13th, 2013
Location:
DUC A 210
Event URL:
http://www.wku.edu/healthservices/health-ed/passport-to-wellness.php
You must attend this event 1 time before completing this event.
Description:
YOLO, You Might End Up SOLO
Time: 6-7pm
Living in the moment might have long term consequences. Check this session out to get advice on everything from romantic relationships to friendships.
Students will receive prizes for attending a total of at least 2, 4, or 6 sessions. Students who attend all 8 sessions will receive 5 additional entries to win the grand prize. The grand prize this year will be a $150 Visa gift card!