Wellness Resources:
Event Information
ORAC: Arkansas Programming Conference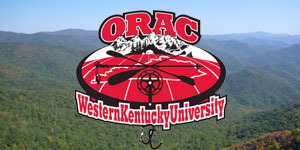 Date:
Friday, April 5th, 2013 - Sunday, April 7th, 2013
Location:
Horseshoe Canyon Ranch, AR
Event URL:
http://www.wku.edu/orac/
You must attend this event 1 time before completing this event.
Description:
Arkansas Programming Conference
Cost: $100, No Guests
Pre-trip Meeting: April 1st @ 7pm
The Arkansas Adventure Programming conference is a student oriented programming weekend for individuals who want to connect with other outdoor educational enthusiasts. Conference attendees from the state of Arkansas can share ideas and practices while attendees from neighboring states can learn about what Arkansas has to offer. Whether you are a part of a seasoned outdoor program or thinking about starting a program, Arkansas Adventure Programming Conference is for you! The conference is located at Horseshoe Canyon Ranch, home to over 300 bolted climbing routes and over 130 bouldering problems. Located next to the Buffalo River, Horseshoe Canyon Ranch and the surrounding area is a mecca for climbing, paddling, hiking, disc golf, and cycling.
To sign up, stop by ORAC in the Preston Center