Wellness Resources:
Event Information
ORAC: Ice Climbing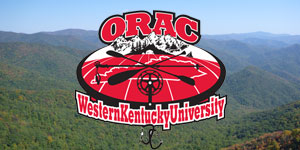 Date:
Friday, February 8th, 2013 - Sunday, February 10th, 2013
Location:
Cedar Falls, IA
Event URL:
http://www.wku.edu/orac/
You must attend this event 1 time before completing this event.
Description:
Ice Climbing
Cost: $115 WKU Student, $125 Guest
Pre-trip Meeting: February 4th @7pm
The University of Northern Iowa has invited WKU to participate in a unique ice climbing adventure! Located outside Cedar Falls, IA, the climbing site features 70 feet of world class ice. We will spend Saturday climbing and then go for a swim in UNI's Rec Center. On Sunday morning, we will crank on some rock at the UNI indoor climbing wall. No ice climbing experience is necessary, only a good attitude and willingness to try something new.
To sign up for a trip, stop by ORAC in the Preston Center (spots are limited and fill quickly!)