Calendar
---
Event Information
Nutritional Counseling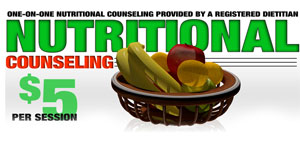 Location:
Health and Fitness lab
Event URL:
http://www.wku.edu/healthfitnesslab/nutritional_counseling.php
You must attend this event 1 time before completing this event.
Description:
Cost: $5
Registered Dietician- offers nutrition services to all students on campus!
Topics may include, but not limited to:
1.Meal Planning
2.Weight Loss
4.Food Allergies
5.Vegetarian Diets
6.Disordered Eating
7.Sports Nutrition
To schedule an appointment, stop by the Health and Fitness Lab!
---
Some of the links on this page may require additional software to view.