Wellness Resources:
Event Information
ORAC: Canoeing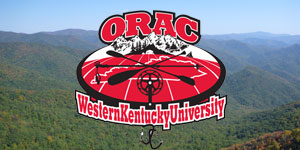 Date:
Saturday, November 3rd, 2012 - Sunday, November 4th, 2012
Location:
Harpeth River, TN
Event URL:
http://www.wku.edu/orac/
You must attend this event 1 time before completing this event.
Description:
Canoeing
Location: Harpeth River, TN
Dates: November 3rd – 4th
Pre-Trip Meeting: October 23rd @ 8PM
Cost: $25 University, $35 Guest
Enjoy the weekend canoeing this beautiful class II paddling area located in central Tennessee. The Harpeth River State Park offers a unique paddling experience that allows you to paddle 5 miles and return back to where you started in less than a quarter mile. Join ORAC on this overnight canoeing trip to The Narrows of the Harpeth, site of one of the oldest man-made tunnels in the United States.