Wellness Resources:
Event Information
e-Chug Assessment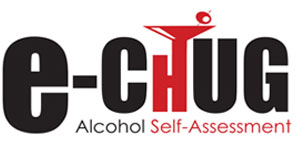 Location:
Online
Event URL:
http://www.wku.edu/hep/e-chug.php
You must attend this event 1 time before completing this event.
Description:
e-Chug Assessment Details
e-Chug is a brief confidential seff-assessment tool, designed to give students personalized feedback about their alcohol use. The basic intervention/assessment takes about 20-30 minutes to complete and review. It draws on Motivational Interviewing (Miller & Rollnick, 2002) and Social Norms feedback theories (Haines & Spear, 1996)
The Feedback that is included with the assessment is as follows:
Quantity and Frequency of Drinking & Calorie Intake

Amount Consumed and Peek BAC

Norm Comparisons

Amount and percent of income spent on alcohol

Tolerance level

Negative consequences of alcohol use

Genetic risk score explanation, advice and local referral information

Get Started HERE

NOTE: WellU® Participants must complete the PRVC and answer the open-ended questions at the end of the assessment summary( click on the green check mark) After completion of the assessment and PRVC, participants must send a SEPARATE email notification to Victoria Peters: victoria.peters319@wku.edu

Risk assessments aren't just for
users or heavy users! eChug/eToke details the costs of even casual
alcohol/marijuana use on your mental, financial, and educational self. If you
are not a user of either substance it also offers information on myths/facts,
potential family history risk, and actual usage rates among your peers. The
self-assessments provide a comprehensive view on the ways these substances may
affect your life, and offer personalized feedback on ways to make improvements.
Find out where you stand today and take both the eChug and eToke!