Become A Teacher
---
If you want to make a difference in the lives of children, becoming a teacher in Kentucky is ideal career for you. WKU's School of Teacher Education prepares you to shape the minds of the next generation while also providing you with the opportunity to work in a state that is deeply committed to education.
Kentucky schools are well-known for their supportive learning environments and dedicated teachers, making it an excellent place to begin or advance your teaching career. Additionally, with competitive pay and benefits, you'll be empowered to concentrate on what you do best: inspiring and mentoring your pupils.
What do you do now that you've made the decision to pursue a career as a teacher?
Find Your Teaching Career Path
Scholarship Opportunities & Financial Support
---
Kentucky Job Market Outlook
What You'll Study
Student Diversity and Differentiation: This course provides students with education and training to address diverse student needs in the P-12 setting. Clinical field experience in public schools and/or other appropriate settings away from campus are required. Students are responsible for their own transportation to designated or assigned sites.
Behavior and Classroom Management in Education: This course provides an introduction to the concepts, theories, and principles of student behavior and classroom management for professionals in P-12 settings.
Early Childhood Education for Children with Disabilities: Emphasis on services and supports for children from birth through five years old, with and without disabilities, and their families, including current intervention research. Field experiences in early childhood settings away from campus are required. Students are responsible for arranging their own transportation to and from assigned sites.
Student Teaching Seminar: Analyzes the connection between teaching theory and actual practice. Portfolio refinement with the New Teacher Performance Standards will be emphasized. Field experiences in public schools and/or other appropriate settings away from campus are required.
Cost and Financial Aid
WKU is committed to making higher education affordable and accessible for all students. That's why over 80% of our first year students receive a scholarship.
| UNDERGRADUATE | Full-time | Per Credit Hour |
| --- | --- | --- |
| Resident (2022–23 rate) | $5,556 | $463 |
| Non-Resident (2022–23 rate) | $13,500 | $1,125 |
Tuition and/or fees are subject to approval/change by the Kentucky Council on Postsecondary Education and WKU Board of Regents.
Find Out How Big Red Will Purchase Your Books For Your Upcoming Semester
The Big Red Backpack program partners WKU with Barnes & Noble College for their First Day® Complete initiative. Big Red Backpack is a course materials delivery program that lowers the cost of course materials and ensures students have their required course materials on the first day of class.
Life On The Hill
When you live on campus at Western Kentucky University, you have the unique opportunity to live in community with Hilltoppers from down the road and across the globe. Our living options will enable you to learn about yourself and others, experience meaningful connections, and realize your peak potential.
A Western Kentucky University campus tour is your opportunity to visit our beautiful campus on the hilltop overlooking Bowling Green, KY. You'll hear from our student tour guides about our majors and academic programs as well as the variety of student clubs and organizations.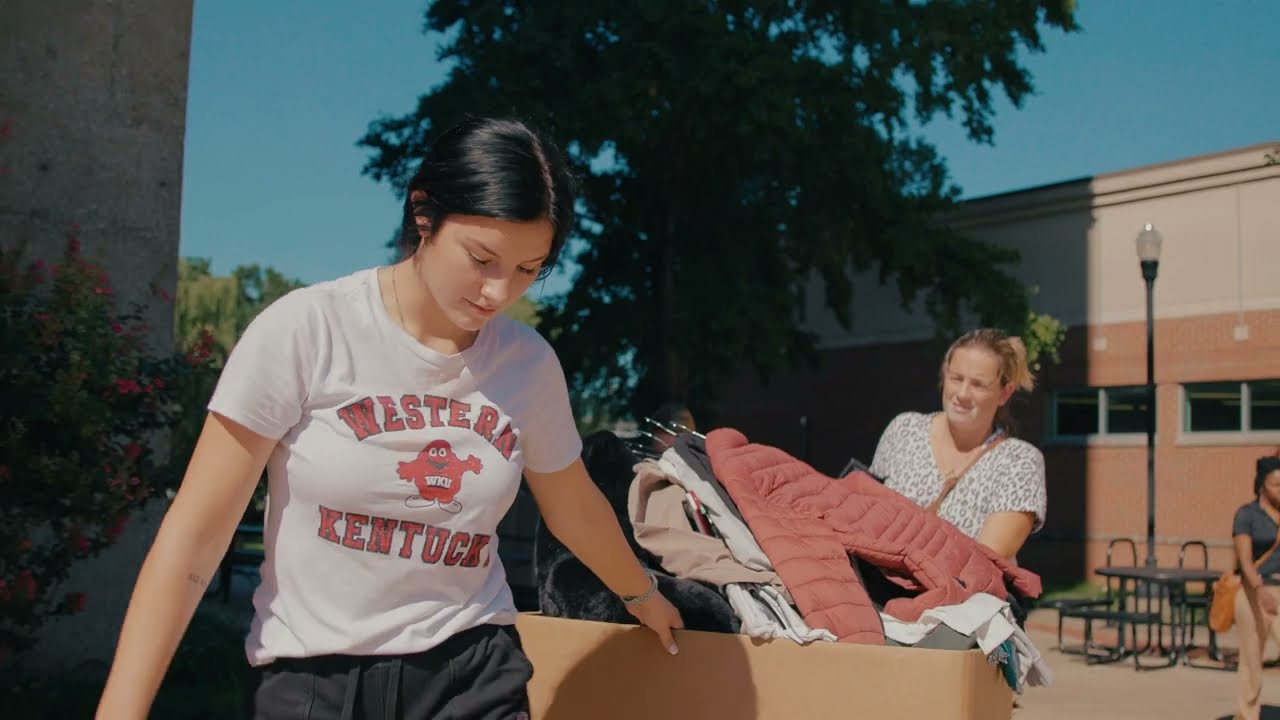 WKU Living Learning Communities
In a WKU Living Learning Community (LLC), students with similar academic or social interests live together on a residence hall floor and participate in activities tailored to their specific majors or interests.
The "Top of the Class" Living Learning Community is for first-year students enrolled in the WKU School of Teacher Education.
This LLC provides a learning community for future teachers to share their passion, learn together, and interact in professional growth activities that develop fellowship and professionalism.
I'm thankful for my LLC because I have learned a lot from those who live around me. They have taught me what it's like to be in a community and have people around me that you can talk to at any point about whatever you need. Being around people that have the same interest as you is a great opportunity to learn from one another! I have made friends for life here and for that I'll always be thankful!
- Emma McCubbins, Crestwood, KY
Education Freshman
CONTACT
THE SCHOOL OF TEACHER EDUCATION
Gary A. Ransdell Hall, Office 1005
1906 College Heights Blvd. #11030,
Bowling Green, KY 42101-1030
---
---
---
Some of the links on this page may require additional software to view.