Future Students
---
WKU's 60-credit-hour, year-round Educational Leadership Doctoral Program focuses on meeting the needs of practicing professionals to develop leadership skills in cross-disciplinary settings. Students are typically full-time employed and fit our coursework around their busy lives. Our cohort schedule is based on completing at least 6 hours per semester (spring, summer, fall) each year. Fall entering cohorts will be offered online and special closed cohorts will employ a hybrid format, utilizing face-to-face meetings with additional online meetings/coursework. Students continually enrolling three semesters per year and staying on track with their cohort should be able to complete all coursework including dissertation hours within 3.5 calendar years.
Learn more about our program by watching our WKU Ed.D. Virtual Open House.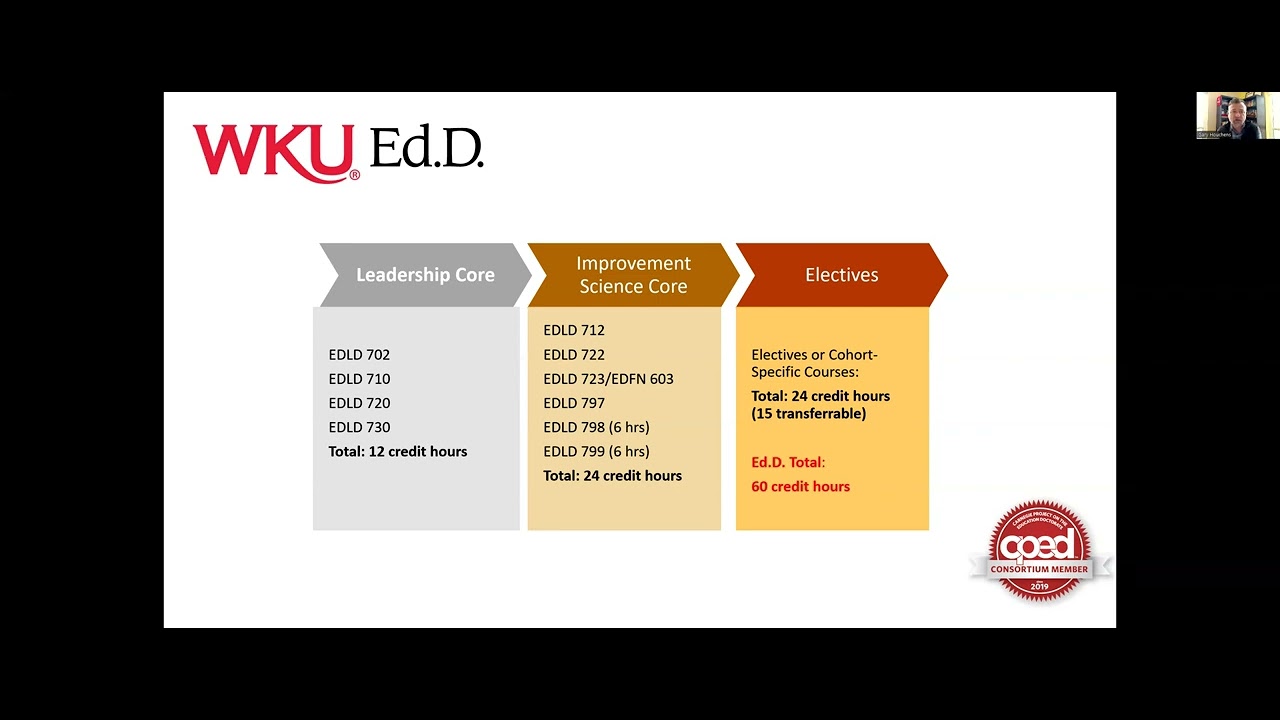 ---
Admission Requirements
Intended candidates for the degree are individuals who have completed at least a master's degree (or other appropriate graduate degree), have demonstrated leadership capacity within their organizational settings, and/or are committed to enhancing their abilities to learn and to enhance the educational missions of their organizations and communities.
Program admission is based on a holistic evaluation of the candidate's application file, which must include:
Transcripts of all undergraduate and graduate course work;
Documentation of a master's degree (or other graduate degree) from an institution accredited by a nationally recognized accreditation organization;
Completed application;
Current (within 1 year of application deadline) resume or vita;
An in-depth personal statement including qualifications, rationale, and goals related to pursuing the WKU Ed.D. program;
Three current (within 1 year of application deadline) letters of recommendation from persons in a position to evaluate the applicant's potential for success in a doctoral program; and
Submission of GRE scores. Those students who cannot provide scores or have never taken the GRE may be considered for admission through an alternative process. Contact the program director for more information.
Submission of a writing sample (requested during the admission review process) if applicants cannot provide GRE scores, took the GRE without the Analytical Writing portion, or if Analytic Writing score falls below preferred minimum.
International students who apply must submit the following additional information for admission consideration:
Evidence of ability to communicate in English (as evidenced by a minimum of 570 on the paper based TOEFL, a minimum of 88 on the iBT TOEFL, a minimum of 7.0 on the IELTS; or a degree from an institution with English as the language of instruction).
Evidence of adequate financial resources
*For P-12 Closed Summer Cohort admission, the application deadline is April 15.
*For Fall , the application deadline is May 15.
---
Tuition Information
The tuition rate for the program is based on current WKU graduate tuition rates. Information about tuition is available at the following link: Tuition and Fee Schedules

Potential financial resources include:
Fellowships
Scholarships
Student loans
Tuition waiver for credits obtained by P-12 teachers providing supervision of student teachers/interns
Tuition credit waivers for state employees
Employer/district matching contracts and/or professional development funds
Contracted organizational incentive discounts
Personal funds
---
---
Some of the links on this page may require additional software to view.