School of Media Living Learning Community
---
Are you interested in learning about broadcasting, journalism and photojournalism? Do you like visual storytelling, writing, and want to learn more about your community?
The School of Media Living Learning Community will provide you with:
Mentorship from current students and faculty

Experiential learning activities


The chance to develop a network of peers and explore leadership opportunities on campus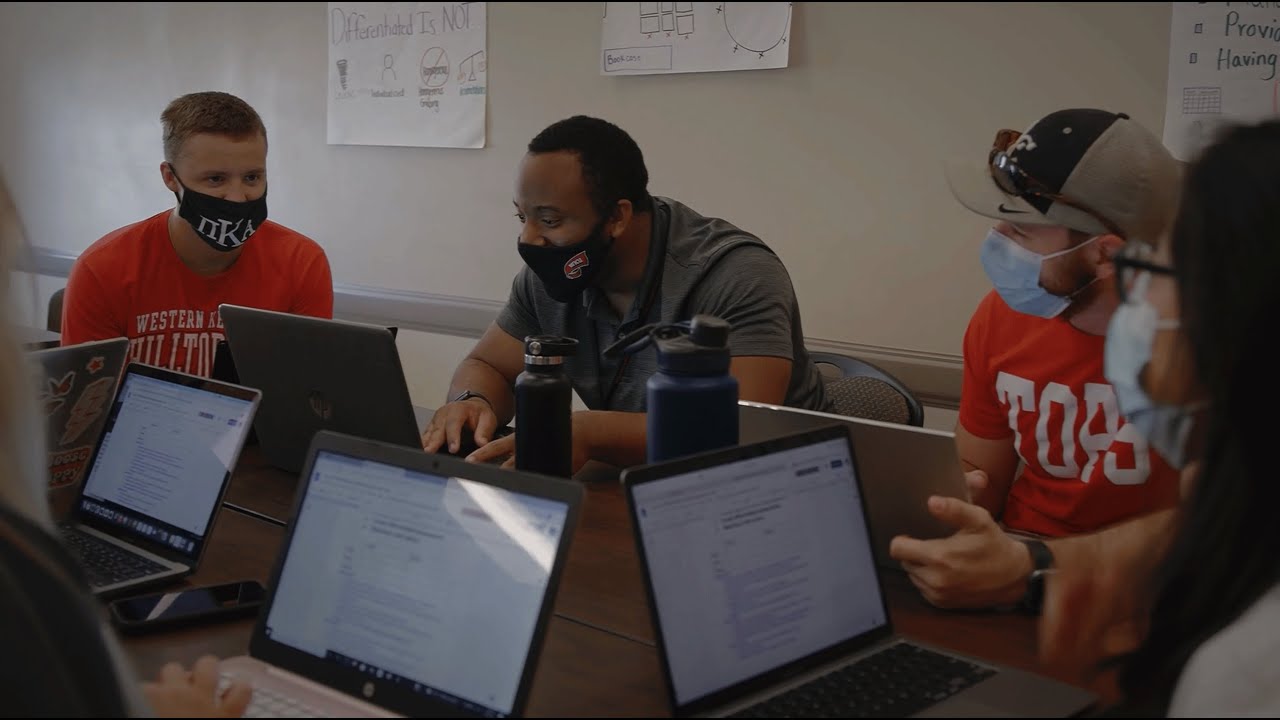 ---
What is a Living Learning Community?
In a WKU Living Learning Community (LLC), students with similar academic or social interests live together on a residence hall floor and participate in activities tailored to their specific majors or interests.
LLC's are designed to help you connect socially, succeed academically, engage with WKU faculty, staff, and administrators, and chart your course at WKU.
What does the School of Media LLC Offer?
Students in the School of Media LLC will take several classes together throughout the year, giving them built-in study partners living on the same floor. Throughout the year, students will be invited to LLC-only social events — such as game nights, tailgating or off-campus excursions — as well as other programs designed with their academic interests in mind. The LLC Faculty Fellow will also serve as a resource to help you transition to college life by meeting with you one-on-one throughout the year to get to know you individually and provide individualized help to navigate college life and share resources to help you succeed.
---
What Classes will you take?

---
What are the requirements?

The School of Media Living Learning Community is designed to bring together and engage first-year students in the fields of Journalism, Photojournalism and Broadcasting, and to provide shared experiences across those disciplines.
Students in this LLC will form strong, interpersonal connections to their classmates and faculty in the School of Media, and will have increased and enhanced opportunities to study, discuss and experience the core material from their Freshman SoM classes.
Requirements:
Students must be first-year majors in Journalism, Photojournalism or Broadcasting.

Students must be enrolled in a single linked section of SOM 101 (Understanding Media) and one of two linked sections of SOM 102 (Media Content, Collaboration and Community) during their first semester.

During the second semester, students must enroll in a linked section of PS 110 (American National Government). Broadcasting students will also enroll in a linked section of BCOM 266 (Basic Television Production) while journalism and photojournalism students will enroll in a linked section of JOUR 202 (News Writing).
Students are also encouraged, but not required, to enroll in a journalism-focused section of UC 175 (University Experience).
---
Location
The School of Media Living Learning Community will be located in the brand new First Year Village in Normal Hall, opening fall 2021. All classes will be taken in Jody Richards Hall, located near the first year village and the Guthrie Bell Tower. We are Number 39 on the Campus Map.
---
How to Apply?

You can apply for a Living Learning Community through your WKU Housing Application. Applications will be accepted until the priority housing deadline March 31. However, the School of Media Living Learning Community has a limited capacity, and applications will be reviewed in the order they are received. Applicants may be placed on a waitlist if the LLC reaches capacity.
---
Contact
---
Sam Oldenburg - School of Media LLC Faculty Fellow
Sam Oldenburg is an adviser in WKU's Student Publications office, where he advises Talisman, a life and culture magazine and website, and Cherry Creative, a branded content studio. A 2013 graduate of WKU's photojournalism program, Sam worked in both journalism and marketing before returning to the Hill as an adviser in 2017. He is also a part-time instructor in the School of Media, teaching the SOM 102 course linked with the Living Learning Community.
Connect with Housing & Residence Life to stay up to date about the WKU Living Learning Programs
---
The School of Media & Communication at WKU is ACEJMC accredited for majors in Broadcasting, Journalism and Photojournalism.
---
---
Some of the links on this page may require additional software to view.