---
WKU Housing Restart Plan
WKU Housing & Residence Life is committed to creating a rich, robust out-of-classroom student experience where students learn about themselves and others, experience meaningful connections, and realize their peak potential. In doing so, we reinforce our primary goals of delivering quality, effective student services while caring deeply for students and investing in their personal and academic success.
For more information about the full WKU Restart Plan, visit wku.edu/healthyonthehill/
Watch:
---
WKU Housing & Residence Life has modified the move in process for all students to provide a safe and efficient experience for our students and staff during the COVID-19 pandemic. Students have three move in options to choose from and are required to sign up for a move-in timeslot.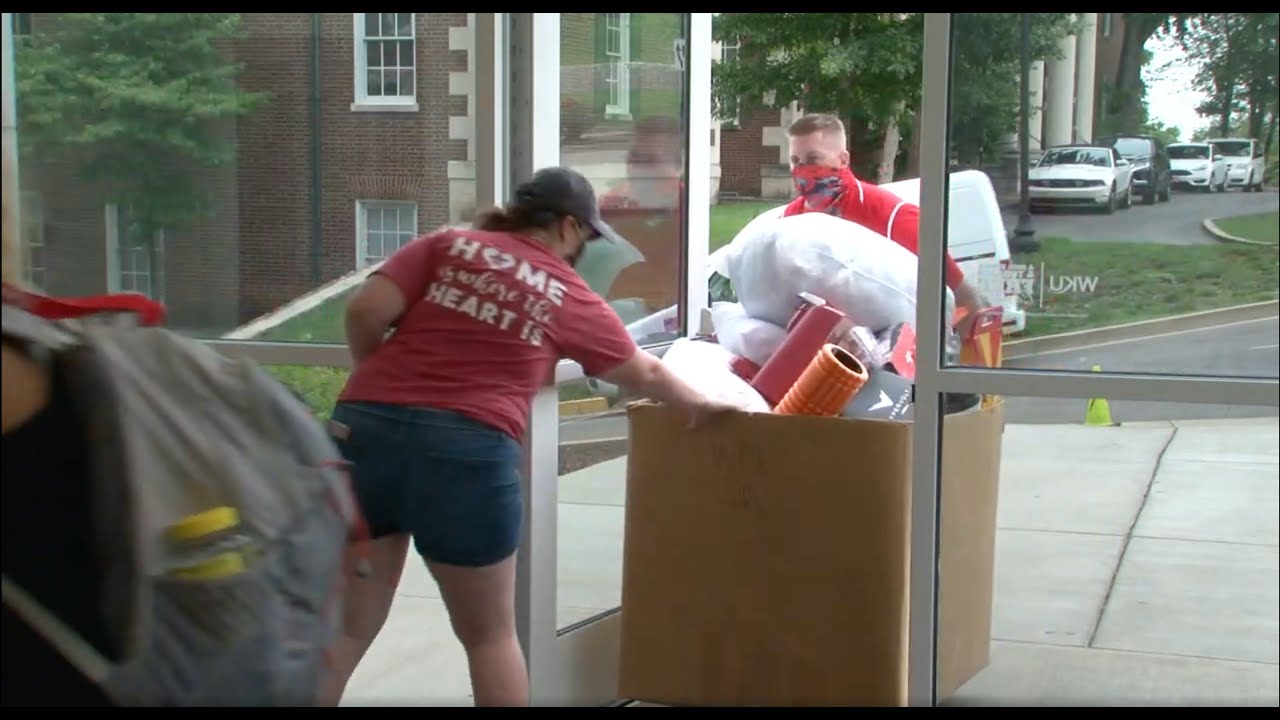 Watch:
Housing and Residence Life implements safety measures for students moving back
---
WKU Housing will open for fall 2020 with the following considerations:
Required Housing Policy
WKU Housing & Residence Life recognizes the unique class schedules of students for the fall 2020 semester.
The requirement for freshmen and sophomores to live on campus will continue with the same exemption process in place. However, Housing and Residence Life (HRL) may adjust the waiver requirements (e.g. increase the mileage radius to qualify for commuter status) in order to accommodate students who prefer to remain at home during this time.
Students with a primarily online-only or hybrid class schedule for fall 2020 who desire to commute from their parent/guardians' permanent address are required to submit a housing exemption that would be considered for fall semester only.
Students who are seeking an exemption can fill out an exemption request through the Housing Portal.
Student Accessibility Resource Center (SARC) will be the main point of contact for students who are seeking exceptions to the mandatory housing requirements due to pre-existing medical conditions and COVID-19-related concerns.
View the Full Required Housing Policy
Questions: Contact (270)745-2100 or email required.housing@wku.edu
Building Capacity
All buildings will open at full capacity - two residents/room. Residents will complete a revised roommate agreement in which they are able to share any concerns and agree upon conditions related to Covid-19. With the space in the room, residents will be able to social distance with the understanding that they may come in contact with their roommate - which will be considered a member of their household.
Face Masks
Residents are required to wear a mask in all common areas of the residence hall.
Masks are not required in the residence hall bedrooms. Roommates are considered members of a "household," in which a mask in not required.
Visitation
Each student will only be allowed to check in one guest at a time, though visitation is not limited to WKU students. Additionally, no more than four people should be present in a residence hall room at a time.
Out-of-State Travel
The Kentucky Department for Public Health (DPH) issued an advisory for those who have traveled to/from states reporting high numbers of COVID-19. The advisory recommends a 14-day self-quarantine for travelers who went to any of eight states reporting positive testing rate equal to or greater than 15% for COVID-19 testing. States were identified from data reported to Johns Hopkins University of Medicine Coronavirus Resource Center. They include Alabama, Arizona, Florida, Georgia, Idaho, Nevada, South Carolina and Texas. The rate of positive patient tests in Mississippi is nearing 15%, so travelers to Mississippi are also asked to voluntarily self-isolate for 14 days. Puerto Rico is the U.S. Territory that has been added.
Students traveling from these states are recommended to self-quarantine at home before arriving to campus.
Quarantine
Students are permitted to return home to quarantine if they desire.
---
Students residing on campus who elect to stay on campus for their quarantine will be housed in designated spaces on campus. WKU Housing and Residence Life has assigned a coordinator to support students required to quarantine.
Medical care will be provided by Graves Gilbert Clinic at their on-campus location or through telehealth with an on-call provider.
WKU Counseling staff will make regular contact with the students.
Aramark has developed a web-based system for students quarantined on campus to make meal selections that will be managed through the student's meal plan or other existing university account. Meals will be packaged individually and delivered by a staff member. Other necessities, such as toiletries, that are found in campus stores will be available for delivery.
Cleaning Procedures
WKU Residence Halls will follow our facilities vendor, WKU SODEXO's cleaning and disinfection protocols, which includes increased frequency of cleaning in common areas.
M.A.S.T.E.R. Plan
We are excited to welcome the WKU Class of 2024 to WKU! All M.A.S.T.E.R. Plan programs and activities have been reviewed and adapted to provide a safe and enjoyable experience for all participants.
In-Hall Staffing
Staffing levels in residence halls will be based on occupancy within the hall. Professional /paraprofessional staff levels will be adjusted as needed.
Residential Student Programming
Programming to be limited to the number of individuals advisable by public health officials. All residence hall events and programs will be adjusted so that the maximum number of participants does not exceed the number of residents on a floor within the hall.
Housing Terms & Conditions Addendum
Thanksgiving Break
All halls will remain open for Thanksgiving. Classes move to remote delivery November 20 while all halls* remain open until 10 a.m. December 12, 2020.
View the Full Housing Calendar
*Extended Living Halls (Hilltopper, Northeast, & Rodes) remain open through winter break.
Frequently Asked Questions
---
Some of the links on this page may require additional software to view.