Project Affect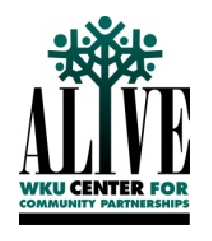 Date:
Wednesday, September 25th, 2013 - Wednesday, September 25th, 2013
Location:
WKU Centennial Mall
Event URL:
http://www.wku.edu/alive/volunteerism/project_affect.php
You must attend this event 1 time before completing this event.
Description:
Project Affect: Campus & Community Engagment Fair
11:00-3:00pm
To revieve WellU credit, you must complete on th hands-on activities.
There will be a WellU card swiper at the Youth Development tent.
Activities will be listed soon.
About ALIVE

The ALIVE CCP is committed to bringing campus and community together for the enrichment of both higher education and public life. We facilitate collaborative efforts that address local, regional, and global needs while enhancing the level of student learning and educational experience. We are dedicated to providing WKU students with opportunities that cultivate personal growth, ethical values, and public action for the common good. The ALIVE CCP supports engaged scholarship through service-learning and community-based research as part of the WKU curriculum. We also provide numerous opportunities for volunteerism and ongoing community service.