Academic Advantage Series- Lending a Hand in the Community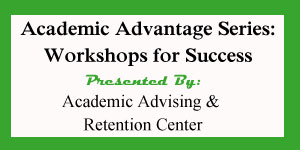 Date:
Monday, February 25th, 2013 - Monday, February 25th, 2013
Location:
Gary A. Ransdell Hall Auditorium
Event URL:
http://www.wku.edu/tlc
You must attend this event 1 time before completing this event.
Description:
Academic Advantage Series: Expectations of a WKU Student

Time: 5-6pm

Join Leah Ashwill for more information on how to Lend a hand in your community.

Please arrive early, these sessions fill up quickly. Bring your ID to swipe at the end of the presentation.