WellU Appreciation Day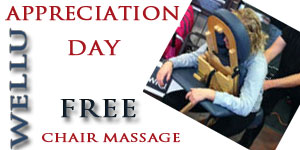 Date:
Thursday, November 29th, 2012 - Thursday, November 29th, 2012
Location:
DUC Lobby
Event URL:
http://www3.wku.edu/awellu/
You must attend this event 1 time before completing this event.
Description:
WellU Appreciation Day
Time: 11am-1pm
The WellU Staff would like to recognize all the hard work our participants have done this semester. Come and treat yourself to a FREE chair massage courtesy of the Health and Fitness Lab Licensed Massage Therapist. We will also be giving out WellU goodie bags!
WellU participants will recieve 1 WellU credit for this event.
Any questions or concerns contact: