College Readiness Success Series- Test Taking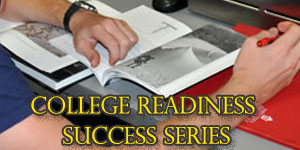 Date:
Wednesday, December 5th, 2012 - Wednesday, December 5th, 2012
Location:
Tate Page Hall 401
Event URL:
http://www.wku.edu/getready/
You must attend this event 1 time before completing this event.
Description:
Lecture and Workshop Series
Time: 1:30-2:30pm
* FREE Stress Balls given out
Get ready for finals. Bring your final schedule. In this intense one hour seminar, you'll learn tips to maximize your study and reading time, address common test taking errors, and help you come up with a game plan to make your finals for the upcoming spring semester easier from the start.
Please EMAIL Kristy Cartwright or Jeremy Logsdon to reserve a spot or ask questions!