College Readiness Success Series- Reading Strategies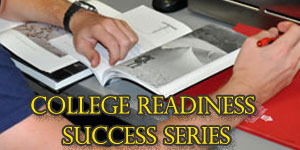 Date:
Wednesday, November 28th, 2012 - Wednesday, November 28th, 2012
Location:
Tate Page Hall 401
Event URL:
http://www.wku.edu/getready/
You must attend this event 1 time before completing this event.
Description:
Lecture and Workshop Series
Time: 1:30-2:30pm
Learn new ways to study. Strategies addressed will include note taking from textbooks, rewriting notes, and lecture note taking strategies. This is an intense, packed hour; come ready to learn strategies that will radically change your reading habits.
Please EMAIL Kristy Cartwright or Jeremy Logsdon to reserve a spot or ask questions!