College Readiness Success Series- Boost Your Vocabulary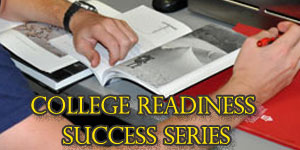 Date:
Wednesday, November 14th, 2012 - Wednesday, November 14th, 2012
Location:
Tate Page Hall 401
Event URL:
http://www.wku.edu/getready/
You must attend this event 1 time before completing this event.
Description:
Lecture and Workshop Series
Time: 1:30-2:30pm
Come learn effective strategies to improve your understanding of college level vocabulary. An underdeveloped vocabulary can be one of the biggest obstacles to college-level reading. In this seminar, you'll takea quick, no pressure assessment to see where you are and give you strategies you can implement immediately to boost your vocabulary.
Please EMAIL Kristy Cartwright or Jeremy Logsdon to reserve a spot or ask questions!