ALIVE Center: Random Acts of Service- Parents and Youth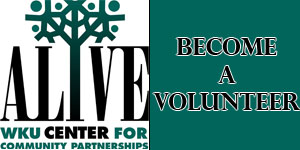 Date:
Tuesday, October 9th, 2012 - Tuesday, October 9th, 2012
Location:
Preston Center
Event URL:
http://www.wku.edu/alive/
You must attend this event 1 time before completing this event.
Description:
Random Acts of Service
Project Hint: Helping Parents and Youth
Time: 2-3pm
The ALIVE Center's Student Advisory Board serves in a variety of capacities that include promoting service opportunities to other students. They created the Random Acts of Service program, which is a sparactic service project for students. Participants know when the project will take place, but they are not aware of the type of volunteer service until arriving at the meeting place. Previous projects included delivering valentines to toddlers and pre-schoolers at Jones-Jaggers, providing home improvements with Habitat for Humanity, and writing letters to soldiers.
To volunteer for the ALIVE Center contact:
Phone: 270-782-0082
Email: alivebg@wku.edu
Please sign in on the WellU sign in sheet for credit