Wellness Resources:
Event Information
Greek Blood Drive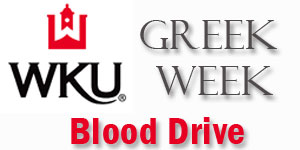 Date:
Monday, April 7th, 2014 - Wednesday, April 9th, 2014
Location:
Preston Center
Event URL:
http://www.redcrossblood.org/make-donation?distance[postal_code]=42101&distance[search_distance]=10&date[min][date]=&date[max][date]=&distance[search_units]=mile&search-submit=Go
You must attend this event 1 time before completing this event.
Description:
WKU Greek Week Blood Drive
Monday April 7th 10am-6pm
Tuesday April 8th 10am-6pm
Wednesday April 9th 10am-7pm
Visit www.redcrossblood.org and click enter sponsor code and enter WKU to schedule your appointment in advance! Appointments will be honored first! Walk-ins are welcome but we ask that you do try to schedule an appointment!
Please bring your Photo ID! Every 2 seconds someone needs blood come be a Giver and donate at the Greek Week blood drive!!!
WellU sign-in sheet will be provided for credit.