Wellness Resources:
Event Information
WKU Blood Drive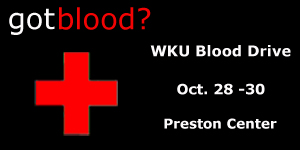 Date:
Monday, October 28th, 2013 - Wednesday, October 30th, 2013
Location:
Preston Center
Event URL:
http://www.redcrossblood.org/wku
You must attend this event 1 time before completing this event.
Description:
Monday, October 28th from Noon-6pm
Tuesday, October 29th from 10am-6pm
Wednesday, October 30th from 10am - 7pm
Located in the Preston Center
Since we are not in the same conference this year with MTSU, we will not be doing the Annual Blood Battle, however, we are still doing our annual Fall Blood Drive. The theme this year is "Save A Life, Starve a Vampire". The Blood Battle will resume next year.
As a Thank You for donating you have the opportunity to get the items below:
FREE Meal vouchers to Fresh Food to the first 75 donors each day of the 3 day blood drive brought to you by The WKU Restaurant Group.
FREE T-Shirt – all presenting donors will receive a free T-shirt
Entered to win $1000 American Express Gift Card – as a part of the Red Cross "Saving Lives Never Looked So Good" Promotion
Bruster's Buy One Get One Free – first 500 donors will receive a BOGO free card from Bruster's Real Ice Cream
We encourage you to sign up for a time to donate to secure your spot!
There are many of the WKU Family that have needed and received blood and had their lives saved because people were generous enough to take the time to donate. We need to continue to make that difference because the need is constant, especially with a critical shortage at this time!
So please come out and donate and ask your friends and family to donate as well. DETAILS of the drive are below.
Please schedule your appointment in advance for our Fall 3 day blood drive! Go to http://www.redcrossblood.org/WKU (If the link isn't working you can also go to www.redcrossblood.org and enter Sponsor Code WKU to schedule your appointment) or www.redcrossblood.org/wku
Every 2 seconds someone needs blood and your 1 donation can help save up to 3 lives! Encourage your friends, classmates, students and coworkers to come and give some LIFE SAVING BLOOD!
Please bring your photo ID and drink lots of water and eat a good meal before-hand!
Click here for more info! http://www.redcrossblood.org/donating-blood