Wellness Resources:
Event Information
Freshman Assembly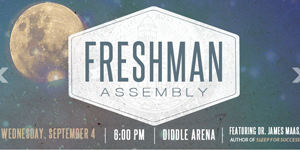 Date:
Wednesday, September 4th, 2013 - Wednesday, September 4th, 2013
Location:
Diddle Arena
Event URL:
http://www.wku.edu/freshmen/
You must attend this event 1 time before completing this event.
Description:
Freshman Assembly
Wednesday, September 4th @ 6:00PM
Location: Diddle Arena
All freshmen are expected to attend unless you have a night class on Wednesday. This ceremony will be moderated by WKU President Gary Ransdell, and we are delighted to have Dr. James Maas, an internationally renowned professor of psychology (formerly at Cornell University) and filmmaker, deliver our keynote address on "Sleep for Success."
This year's assembly will focus on the power of sleep and how it affects every aspect of your health and life. Every freshman in attendance will receive a lapel pin during the ceremony. This pin signifies the beginning of your college experience, and it reads, "WKU 2013: The Beginning…" It also has an image of the Guthrie Tower in the center. The ceremony will end at approximately 6:50 p.m.
Be sure to BRING YOUR STUDENT ID CARD. If you attend and have your card, you will be able to swipe it at a station that will capture your attendance as you exit Diddle Arena.
Event hosted by The WKU Freshman Assembly Committee
Make sure you bring your WKU ID to receive credit and/or sign in!