Wellness Resources:
Event Information
ORAC: Backpacking Grand Canyon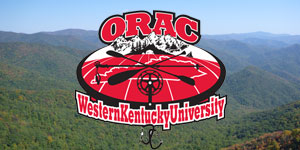 Date:
Friday, November 22nd, 2013 - Friday, November 22nd, 2013
Location:
Grand Canyon, AZ
Event URL:
http://www.wku.edu/orac/
You must attend this event 1 time before completing this event.
Description:
ORAC: Backpacking
Location: Grand Canyon, Arizona
Dates: November 22nd-30th
Pre-Trip Meeting: November 14th @7pm
Cost $300 University, $325 Guest
Have you ever wanted to eat Thanksgiving dinner at the bottom of the Grand Canyon? If so, join ORAC this Thanksgiving break as we spend 4 days and 3 nights backpacking in the spectacular Grand Canyon National Park. We will backpack deep into the Colorado River Gorge and get an idea of the canyon's immense size. This backpacking trip offers inspiring views of a powerful and vast landscape filled with natural beauty. Your fitness level should be good for this demanding trip.
Make sure you bring your WKU ID to receive credit and/or sign in!