Wellness Resources:
Event Information
Topper Fitness Master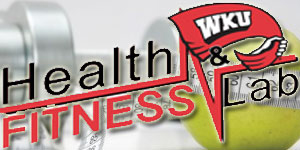 Date:
Monday, April 8th, 2013 - Wednesday, April 10th, 2013
Location:
Preston Center Fitness Center
Event URL:
http://www.wku.edu/healthfitnesslab/
You must attend this event 1 time before completing this event.
Description:
Time
April 8th 5:00-7:30pm
April 9th 5:00-7:30pm
April 10th 12-2:30pm
The Topper Fitness Master is a muscular endurance, cardiovascular endurance, and flexibility competition that will be held in the Fitness Center. Each event (pushup, 1.5 mile run, sit-and-reach test) has a set amount of points related to the event, the male and female participant with the most awarded points will be crowned the winner.
Male and female winners will receive a $10 Wal-Mart Gift Card. Raffle prizes will be available.
Sign up for the Topper Fitness Master on April 1st! Walk-ins are welcome, but subject to availability. To make an appointment, or for more information, stop by the Health and Fitness Lab, room 20A in the Preston Center.
All participants must sign a consent form/waiver.