Wellness Resources:
Event Information
College Reading Success Book Club and Workshop Series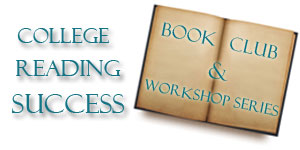 Date:
Monday, February 18th, 2013 - Monday, February 18th, 2013
Location:
Tate Page Hall 401
Event URL:
http://www.wku.edu/getready/
You must attend this event 1 time before completing this event.
Description:
SQ3R
Time: 3-4pm
Do you find your studying does not produce the results you would like? In this session, we can teach you how to maximize your study time.
Books will be provided!!
A ticket will be issued at each session for the grand prize drawing of an iPad Mini!!
PLEASE EMAIL Kristy Cartwright or Jeremy Logsdon to reserve a spot or ask questions!