Wellness Resources:
Event Information
Passport to Wellness: Don't Loan Your Life Away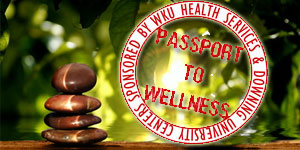 Date:
Wednesday, April 17th, 2013 - Wednesday, April 17th, 2013
Location:
DUC A 210
Event URL:
http://www.wku.edu/healthservices/health-ed/passport-to-wellness.php
You must attend this event 1 time before completing this event.
Description:
Don't Loan Your Life Away
Time: 6-7pm
A representative from the WKU Financial Aid Office will be present to explain different options for financial aid. The representative will explain different types of loans along with the best way to pay them off quickly. Don't know what you should and shouldn't use a loan for? This question will also be answered during this program.
Students will receive prizes for attending a total of at least 2, 4, or 6 sessions. Students who attend all 8 sessions will receive 5 additional entries to win the grand prize. The grand prize this year will be a $150 Visa gift card!
Note: documents in Quicktime Movie format [MOV] require Apple Quicktime,
download quicktime.