Wellness Resources:
Event Information
ORAC: Canoeing Rough River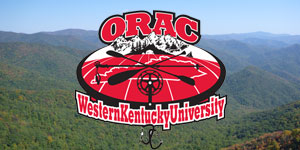 Date:
Friday, April 12th, 2013 - Saturday, April 13th, 2013
Location:
Rough River, KY
Event URL:
http://www.wku.edu/orac/
You must attend this event 1 time before completing this event.
Description:
Canoeing Rough River
Cost: $25 WKU Student $35 Guest
Pre-Trip Meeting: April 8th @ 7pm
Join ORAC as we visit the home of Bluegrass music and founder Bill Monroe's birthplace in Rosine, KY. Friday night we will spend time in the tiny town of Rosine, eating fried catfish, dance to live bluegrass, and camp next to the Rough River. Saturday we will canoe down the Rough River viewing some beautiful Kentucky countryside.
To sign up, stop by ORAC in the Preston Center.