Wellness Resources:
Event Information
ORAC: Backpacking- South Cumberland State Park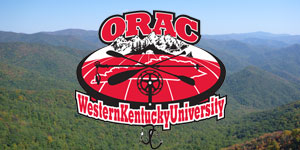 Date:
Saturday, March 23rd, 2013 - Sunday, March 24th, 2013
Location:
South Sumberland State Park, TN
Event URL:
http://www.wku.edu/orac/
You must attend this event 1 time before completing this event.
Description:
Backpacking South Cumberland State Park
Cost: $25 WKU Student, $35 Guest
Pre-trip Meeting: March 19th @ 7pm
Cascading streams, spectacular rock formations, beautiful waterfalls, and stunning overlooks await you on this weekend adventure! Join ORAC as we backpack the Fiery Gizzard trail on the Cumberland Plateau. No backpacking experience is required and all equipment is provided in the cost.
To sign up, stop by ORAC in the Preston Center