Wellness Resources:
Event Information
ORAC: Spring Break, An Adventure In The Natural State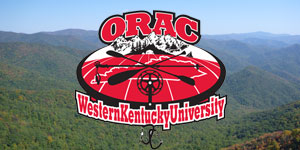 Date:
Saturday, March 9th, 2013 - Saturday, March 16th, 2013
Location:
Buffalo River Valley and Horseshoe Canyon Ranch, AR
Event URL:
http://www.wku.edu/orac/
You must attend this event 1 time before completing this event.
Description:
Spring Break, An Adventure in the Natural State
Cost: $300 WKU Student, $325 Guest
Pre-Trip Meeting: February 28th @7pm
Spend your Spring Break with ORAC in the Ozark Mountains of Arkansas. Arkansas is home to the nation's first national river, the Buffalo. The state is also known for its epic rock-climbing and mountain biking. Come along on this adventure as we explore the Buffalo River, Horseshoe Canyon Ranch, and other famous local attractions such as Hawksbill Craig, Hemmed-in-Hollow, Indian Creek, and more. No experience is required for this trip. We will teach you everything you need to know as we go. All equipment will be provided in the cost through ORAC.
To sign up, stop by ORAC in the Preston Center