Wellness Resources:
Event Information
Weight Training Orientation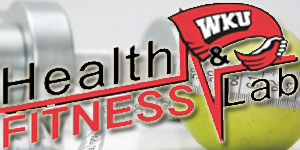 Location:
Health and Fitness Lab
Event URL:
http://www.wku.edu/healthfitnesslab/exerciseprescriptionservices.php
You must attend this event 1 time before completing this event.
Description:
Beginner/Advanced Weight Training Orientation
Cost: Student $5.00
This in an individualized one time personal fitness consultation leading to the design of a personalized fitness program. Each client will be lead through each component fo the fitness program providing ample opportunity to ensure program conprehension. Clients will receive a written individualized exercise program including a tracking sheet where they can monitor their progress and adherence to the program. It takes about 60 minutes.
*A medical history form is required and certain individuals will need to get prior physician's approval.
To setup an appointment stop by the Health and Fitness Lab or call (270)745-6531