Wellness Resources:
Event Information
Personal Wellness Profile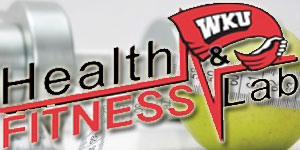 Location:
Health and Fitness Lab- Preston Center
Event URL:
http://www.wku.edu/healthfitnesslab/fitnessassessmentservices.php
You must attend this event 1 time before completing this event.
Description:
Personal Wellness Profile
Cost: $10.00
A comprehensive health risk assessment questionnaire, followed by a fitness assessment. The questionnaire and fitness assessment results are scanned into a secure database and you are provided a detailed assessment of your current health status and recommendations for improving the various areas that need improving. PWP takes about 60 minutes.

*A medical history form is required and certain individuals will need to get prior physician's approval.
Stop by the Health & Fitness Lab in the Preston Center to arrange an appointment.
The personal wellness profile and basic fitness assessment have many of the same services. Due to repetition of services, there must be 4 weeks between the services to recieve WellU® credit for both.