Wellness Resources:
Event Information
Pups and Popsicles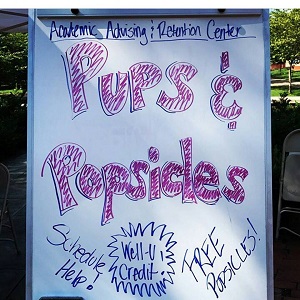 Date:
Wednesday, August 23rd, 2017 - Wednesday, August 23rd, 2017
Location:
Centennial Mall
Event URL:
https://www.wku.edu/events/index.php?eventid=57405&view=event
You must attend this event 1 time before completing this event.
Description:
Join us for Pups and Popsicles in Centennial Mall on Wednesday, August 23 from 10am to 2pm. We'll be passing out popsicles while you learn about the services of the Academic Advising & Retention Center (AARC). Counseling and Testing Center's service dog, Star, will be there to help alleviate any stress that the first couple days of class brings. Need to make schedule changes? No problem! Exploratory Program Advisors will be there to assist you. Interested in free tutoring for that one impossible course? The Learning Center (TLC) will be on hand to set you up with a tutoring appointment. We look forward to seeing you there!